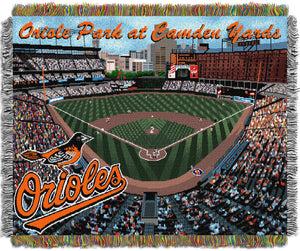 Orioles Camden Yards OFFICIAL Major League Baseball, "Stadium" 48"x 60" Woven Tapestry Throw by The Northwest Company
---
D0102HHMIFW-1MLB/05100/0017/PRM
---
Specification
Brand:The Northwest Company
Care Instructions:Machine wash cold using delicate cycle and mild detergent.
Contents:100% Polyester
Country of Origin:USA
Processing Time:3-5 business days
Restrictions:All 3rd party platforms including
Shipping Cost (Included in Price):7.95
Size:48x60
Details
The OFFICIAL MLB "Stadium" Woven Tapestry Throw by The Northwest Company transforms the home field stadium of your favorite team. Measures 48"x 60" with fringes on all sides. 100% Polyester. MADE IN AMERICA.All licensed MLB products cannot be listed/sold on 3rd party platforms including, but not limited to, Amazon, eBay, Buy.com, Walmart, and Overstock.