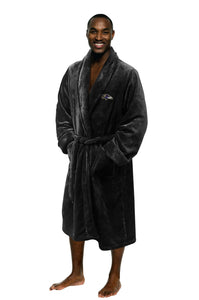 Ravens OFFICIAL National Football League, 26"x 47" Large/Extra Large Men's Silk Touch Bath Robe by The Northwest Company
---
D0102HH8UQV-1NFL/34900/0077/RET
---
Specification
Brand:The Northwest Company
Care Instructions:Machine wash cold using delicate cycle and mild detergent.
Contents:100% Polyester
Country of Origin:China
Processing Time:5-7 business days
Restrictions:All 3rd party platforms including
Shipping Cost (Included in Price):7.95
Size:26x47
Details
Amazingly silky-soft, this OFFICIAL NFL Men's Silk Touch Bath Robe by The Northwest Company is designed with 2 pockets and an embroidered logo on the front. Measures 26"x 47" (L/XL).All licensed NFL products cannot be listed/sold on 3rd party platforms including, but not limited to, Amazon, eBay, Buy.com, Walmart, and Overstock.